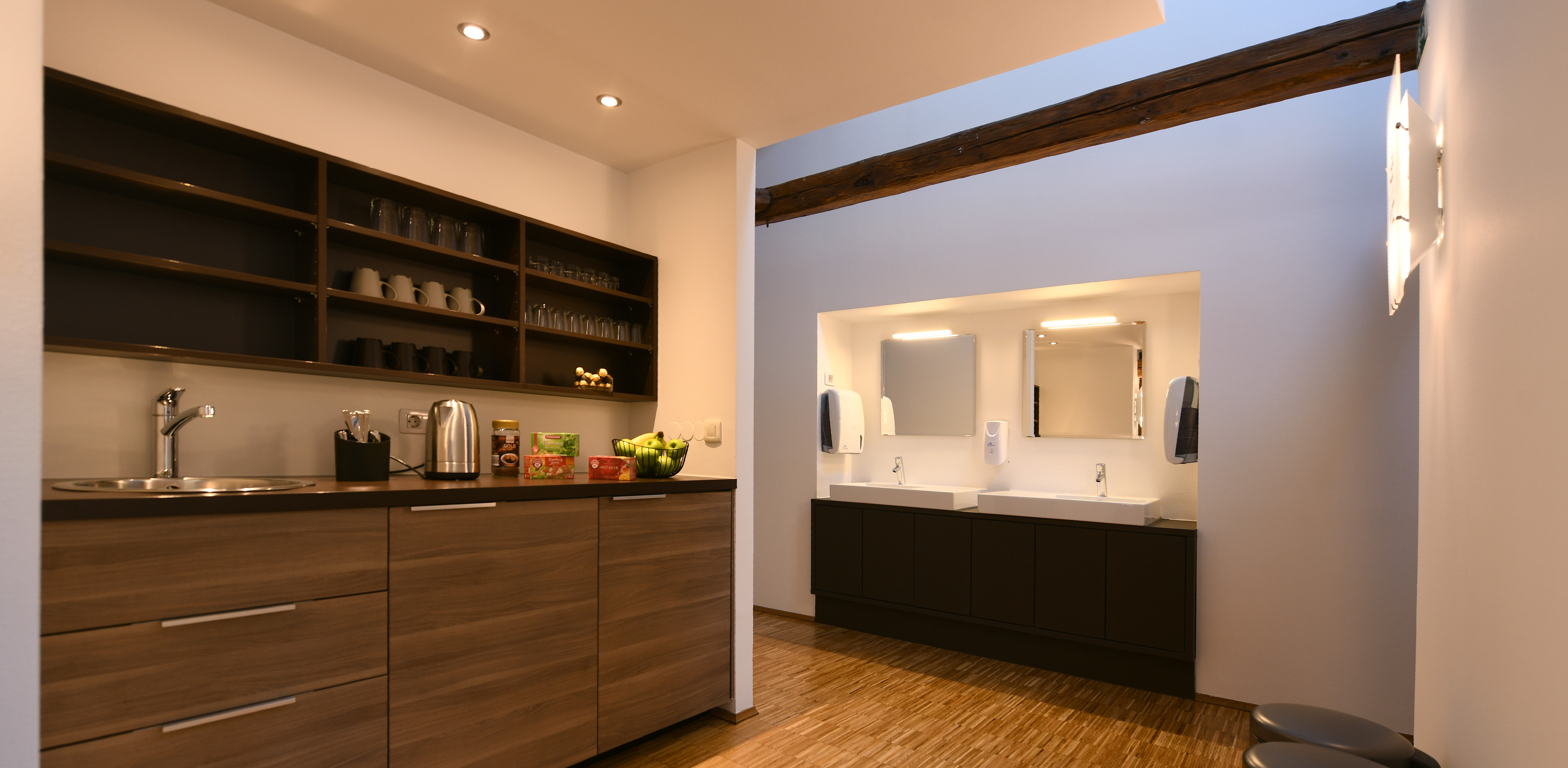 Access

Rooms are on the 2nd and 3rd floor in the historical building, accessible by 60 stairs only.

Equipment

• wi-fi
• TV (satellite and cable channels, only in the Ensuite rooms)
• air conditioning (on the hall, in the Ensuite and Comfort rooms)
• hairdryer
• iron and ironing board (on request)
• bed linen, towels
• bathrobe (on request, surcharge)
• fridge (in the common kitchen)
• electric kettle – in the common kitchen
• baby cot (on request, surcharge)
• safe (only at the reception desk)

Smoking

Smoking is not allowed in the building.

Check-in 15:00 – 19:00

• We do not have a 24-hour reception so we please ask you to tell us your exact time of arrival up to 12 hours before registering.
If you arrive without giving us prior notice you may have to wait up to one hour to register. Thank you for your understanding.
• It is possible to arrive earlier if you give prior notice and if the room is vacant.
• For delayed arrival, we will charge you 10 € per hour.

• Let us know if you arrive later than 19:00 and we'll prepare your key in the "key-box" by the door.

• Upon arrival, guests are registered with the police. We will need the ID or passport details of all guests who will be staying in the hotel.

Check-out 10:00

Late check-out depends on the availability of the room. A surcharge of 10 € per hour.

Common kitchenette

On each floor, there is a common kitchenette where you can make tea or coffee or use a fridge.

Cleaning

• During your stay, we will change used towels and empty the bins upon your request.
• If you need more towels ask the receptionist.
• If you stay for six nights or more, we will clean your whole apartment on the fourth day and change bed linen and towels.

Pets

We cannot accept pets in the building.
Guest reviews
The premises are very clean. I was doubting to book a room with shared facilities but the staff keeps it 100% clean. The rooms are nice, tastefully decorated. The location is perfect. Within 2 minutes you are in the center.

Hannan, Nederlands

EVERYTHING and especially the location, the cleanliness and the kindness of the staff. I have already recommended it, a friend has already followed my advice and I will continue to do so because ATIK and LJUBLJANA deserve it.

Francoise, France

The rest was great as always, very nice and helpful staff, simple yet elegant rooms with comfortable beds and pillows, close to the old town - our hotel of choice whenever we are in Ljubljana. No free/private parking, unfortunately. Fridges on every floor for guests to store their drinks etc. Hairdryer, (a quite small) TV and free WiFi included. Child friendly :)

Nina, Germany

Good value for money in city centre Ljubljana. We booked a room for 1 night with a shared bathroom and had little expectations, but Atik Rooms surprised us very positively. The location is super, it is only a few minute walk to the centre of Ljubljana. The room was very small, but fine for 1 night. There was also a small kitchen on each floor, where you could put some things in the fridge and free coffee/tea/biscuits. Staff are friendly and at check-in you will get a small book with tips for Ljubljana.

Jeroen, Nederlands

Nice place to stay for a short break. The rooms were bright and big enough. Although the showers and the toilet were shared for everyone, they were very clean and up-to-date. The staff were very friendly. There was a small tea kitchen, in which enough things were available for a small breakfast. The fridge was allowed to be used by everyone. The location was right on the edge of the inner old town. There were rental parking spaces directly at the building. The WI-FI was free.

Beatrice, Germany

The accomodation is really in the center of the city. I appreciated possibility to use the parking right behind the building (15€ per night). Everything was clean, the shower was quite spacious, it was nice. You can use kitchen and fridge with other people. The receptionist gives you a small brochure with tips for breakfast, spots etc.

Lucia, Czech Republic

Excellent location to explore the old town by foot. The decor is modern and tasteful and everything is extremely clean, especially the very nice bathroom. There is a kitchenette in the hallway with tea, instant coffee and fruits are available there. Staff is very nice and helpful. Tip 1: reserve parking in time in the hotel. We were too late and then had to park a few streets further (also subject to a fee). There is no free parking in the immediate area. Tip 2: Restaurant Julija We would have given 10 points if we had not had a room right next to the kitchenette. Although all guests were discreet and considerate and didn't talk or be loud in the hallway, we woke up several times at night because you could hear the kettle rushing and bubbling as if it was right next to the bed. We would come back anyway, but ask for a room far away from the kitchenette.

Anne, Germany

The location was perfect, near the main bus station and in the heart of the city. It was very clean and tidy. The staff responded to our emails promptly and were very helpful. The kitchen had fruits, teas and granola bars for guests which I thought was very nice. The room was small and didn't have ac but that was not a problem for us. Our stay was perfect.

Laura, Qatar

Charming stay in the heart of the Slovenian capital. Location in the center of Ljubljana. A lot of charm (unlike what the outside can lead to believe, the inside of the building is very classy, and the dedicated floors for Atik Rooms are extremely cozy, with modern and minimalist decor but very warm) -Very friendly staff, you feel welcomed like home - All amenities are present, especially kitchens with fruits, cereals, ... self service. Ceilings too low - watch your head 😅

Marie, France

Great location right on the city center of Ljubljana. Modern decor, bathrooms and breakfast area seem very new. Kettle, instant coffee, various teas, fruit and sweets for free in the shared area. Fridge is available for sharing and/or private storage with name. Shared areas all very clean and tidy. Really nice staff, uncomplicated check-in and check-out. Actually nothing to complain about... the mattresses were rather soft, the pillows very large - but it is a matter of taste. The room was rather compact, but for such a location in the city center not to be expected otherwise and even enough for city trips. Bicycles can be joined in stands in the courtyard, but we took them into the room during our several days stay - ideally there could be a separate bicycle room/basement, but we did not expect that and that would not be expected.

Tine, Germany

Lovely little Hotel + Hostel in the city center of Ljubljana. If it wasn't for the staff, I would rate this property 7 out of 10. They are exceptional! The best staff I have met on this trip. Great to talk to learn about everything in Slovenia, from where to go for coffee to where to hike. The rooms were sparkling clean and the free snacks in the lobby were delightful. You can't ask for a better location in Ljubljana.

Christopher, USA

You have to register in time for parking in a great place, but there is also a guarded city car park next to it. Spotlessly clean, new furnishings, comfortable beds, small but modern bathroom, air conditioning. Very cozy! There is no elevator and 2nd floor, but not strenuous. Most rooms are located in the attic of the listed building. There is also a small kitchenette in common room. The dimensions are comfortable but you have to pay attention to the sounds because the walls are thin. Very good for a city trip.

Dora, Hungary

For a short stay Atik Rooms is very suitable and well located. The air conditioning works perfectly, which is an important detail under the sloping roof! The check-in went unpractical and the staff is extremely friendly - there was even a booklet with recommendations for restaurants, activities, etc! The room as well as the lounge area were very clean and we felt completely comfortable. The room was very cramped and had little storage space. The windows could not be darkened properly and it was pretty noisy (we could hear our neighbors snoring). Nothing however, we slept very well in the comfortable beds!

Fabienne, Switzerland

Cozy corner in Ljubljana. Great location, just a few meters from the Dragon bridge. It is super central and you can go everywhere by foot. The facilities are ideal, very comfortable. The staff was very friendly at all times, the person at the reception helped us with our consultations and made the reservation of the transfer from Ljubljana to Treviso Airport. In short, I can't wait to return!!! Everything was perfect. As a suggestion, I would say that a fan in the rooms would come super. We stayed in summer and it felt quite hot. Otherwise I recommend 100%!

Barbara, Spain